It was a wild and crazy summer in the Evergreen real estate market. It started off a little slower than some of the previous summers but it certainly finished strong. Looking at the year to date chart for average home sale prices there is certainly some strength holding the values. The recent chatter with real estate agents is "is the market going to hold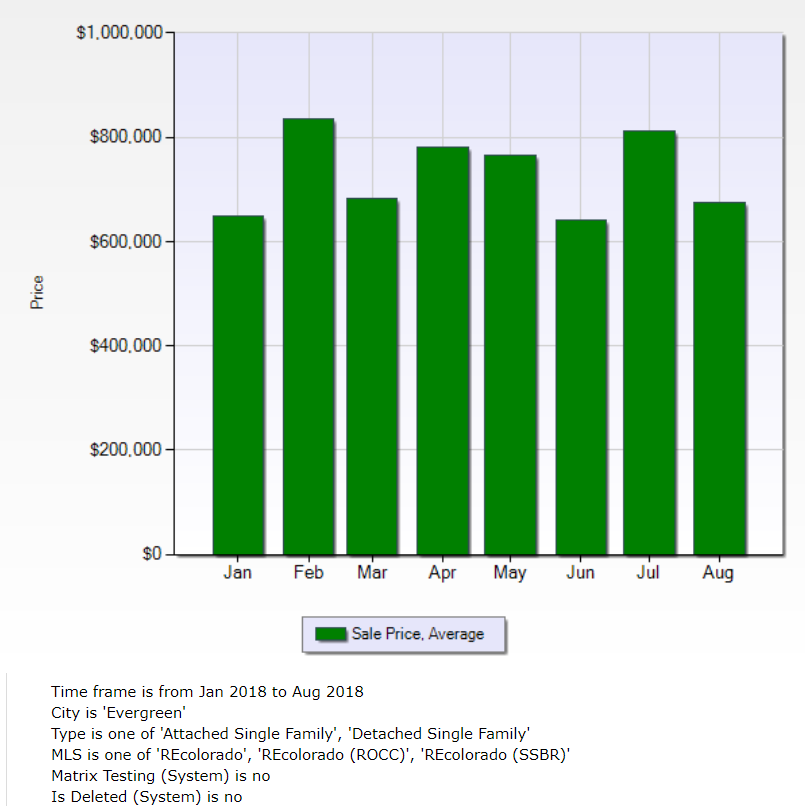 value?". That is the million dollar question. By the looks of the values this year the answer seems to be yes. Four of the last eight months Evergreen has been over $800,000 or very close to it for an average home value. That is why the area has seen appraisals hit the mark time and time again.
These indicators of month after month of higher value shows a great ability to hold value. When buyers say things like "this house wouldn't cost more than $300,000 where I am from and it is going for $600,000 in Evergreen" I just point them to data like this. Value is what the market will pay for a home. The market in Evergreen will pay top dollar for access to the ski resorts and Denver. There will always be high demand for home in Evergreen and the Denver Foothills.
With this being said buyers are still a little spending shy. When this happens we tend to see longer days on market and prices level off. The word on the street with many Realtors is that the market will go sideways or up but not at the pace it did for the last 4 years.
The chart with average days on market (DOM) in Evergreen has still not caught up with the buyers pulling back yet. This usually trails behind the actual market by a month or two. Looking at the chart the days on market are very low going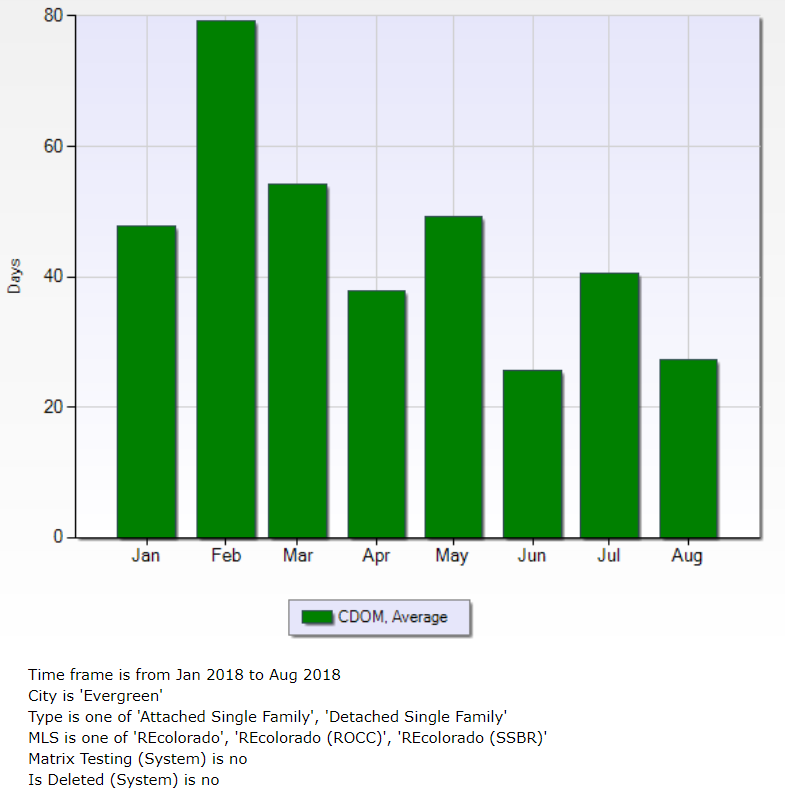 into the end of the summer. This is due to people wanting to be in school before the year starts mixed with our still lower than average inventory. This number of days on market will continue to increase going into the fall. It will still most likely be lower than the average in the last 5 years but the market will see an increase. There will be a slight cooling off in the market over the next couple months so buyers can decide which way to take the market. Evergreen has seen a steady seller market for some time now. Buyers will fight to gain control. When this happens we will see investors come in to swoop up rentals since our rental market is as tight as the existing home market right now.
Have questions about the Evergreen, CO real estate market? Feel free to call 303-503-8793 to discuss home buying options. The market is still hot and doesn't show signs of dropping anytime soon, at least that is what this Realtor's crystal ball is telling him.
Orson Hill Realty
30792 Southview Dr. #110
Evergreen, CO 80439
303-835-9895