The Denver real estate market is still on fire and finishing strong at the end of the summer. Any buyer looking for homes for sale in Denver, CO has seen what a hot market is like. This is common throughout Denver, Denver Foothills and the Front Range. Although the home sale prices are staying steady throughout all of Denver and homes are selling on the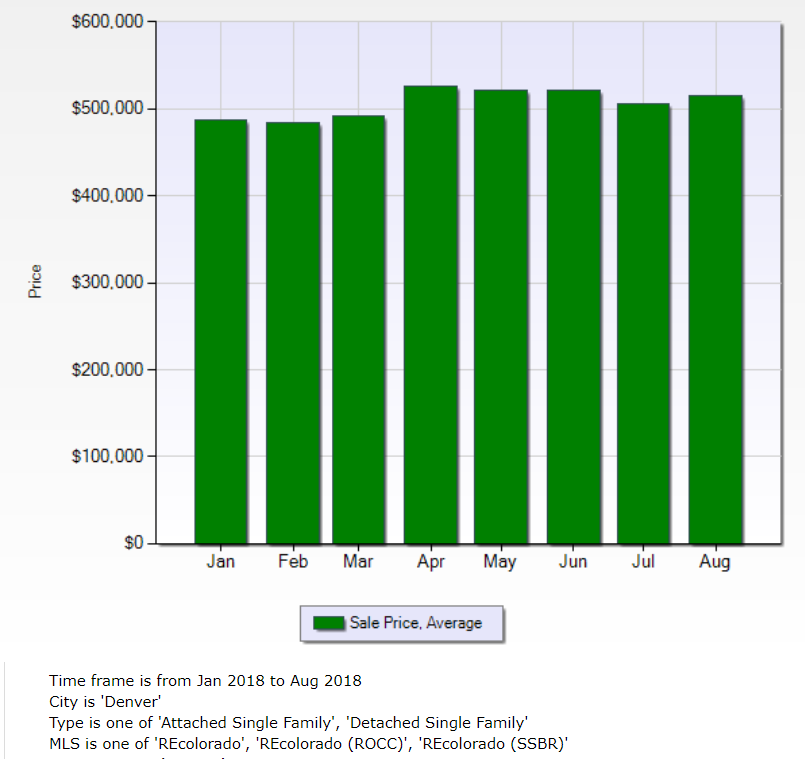 average of about $500,000 the market still seems to be crazy from an inventory perspective. Homes are not increasing in Denver at the rate of the Denver Foothills. They should be though since homes are seeing a lot less days on market and just selling faster than they can be listed. Usually supply and demand drive prices up. The Denver market has not seen that yet. Maybe one reason for the steady prices are that they are putting a lot of new units on the market in Denver.
Looking at the chart to the right, it shows the year to date sale price sticking around the $500,000 mark. It is increasing but not at the rate in previous years. The good news is for buyers. This shows value is there and steady. If this were a stock chart it might be a doji deciding which way to move. With the amount of people moving to Denver it will most likely continue to rise. The market will be making a choice this winter into next spring. Only the market can determine if price will go up or down.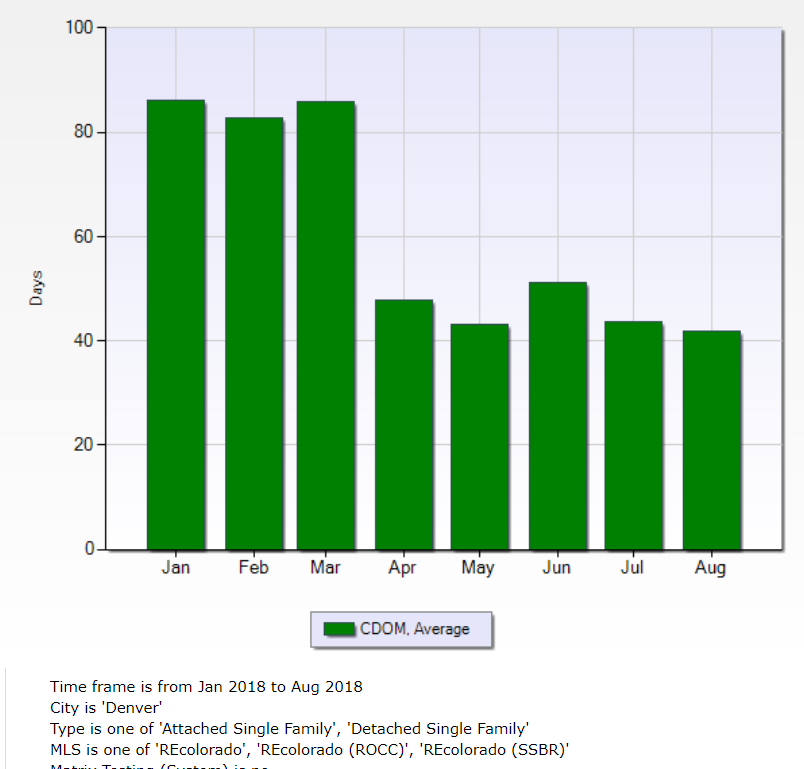 The chart on the left is usually the tell tale sign of market direction. The days on market (DOM) is dropping since January. This means there is more demand for the supply. Homes are moving fast. This is a chart that represents all price points but it is still a good indicator for market movement. Most Denver real estate agents will agree on one thing, the market is still a seller's market and has been for some time now. Denver will always be in high demand. Demand for Denver real estate continues to increase. The amount of cranes you see in the downtown area is a good sign that Denver is adding commercial and residential units. The fact the prices haven't increased shows there is most likely still some upside to the values. That is of course the big question though. Where is the market heading? This Realtor thinks we will still be heading up for some time to come.
For a good Denver real estate agent or to just discuss the market please give me a call at 303-503-8793.
Danny Skelly
30793 Southview Dr. #110 A
Evergreen, CO 80439